Caps on the pillars, caps for fence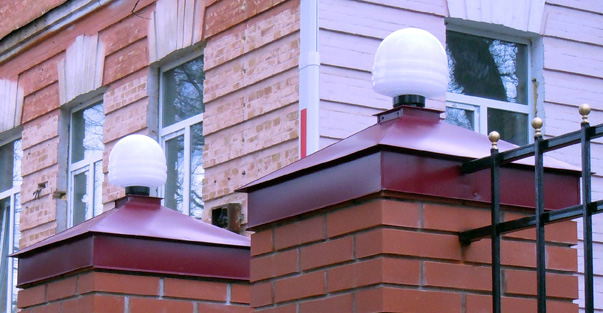 Caps on the pillars perform several tasks:
protection of a fence post from precipitation and masonry from destruction
decorative element and ornament of the fence, which gives the fence a finished appearance
Caps on the poles may be made of different materials:
copper
Zinc-coated sheet
steel coated in the color of the roof creating a unified architectural style
The design of the hood is designed so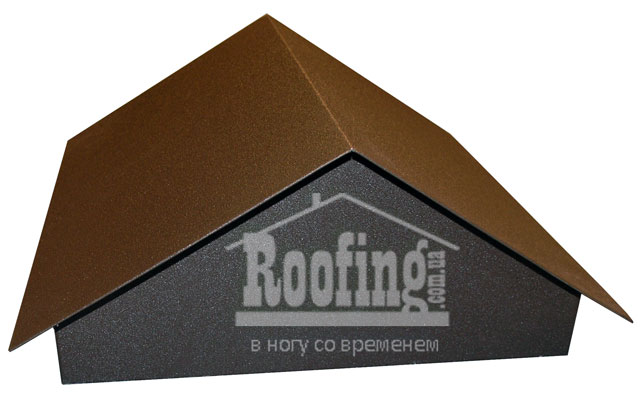 to take deposits from the walls of the column, and then the water gets to the drain of the cap of the fence.
Water is a particular danger in winter and spring, when daily temperature drops a few times turn water into ice, and vice versa. When freezing water expands, thus destroying the fence and laying of the foundation.
Manufacture of caps on the fence is on the individual sizes. Design dome conceived in such a way that excludes water leaking inside. It is important to remember that the caps on the fence, increase the life of the fence for decades.
Shields made of metal combine well with fences made of concrete, brick, wood and rubble.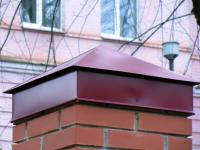 Protection fence and the pillars should be comprehensive and not forget about protecting the base of the fence, for this use ebbs and parapets.
In the manufacture of products according to customer's drawings, it is important to finalize the details with the tinsmith, who can suggest and calculate the optimal variant of the design.